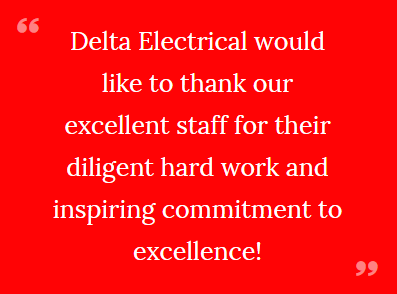 When you're looking for an electrical technician in Jackson, you want to be sure that the company you hire is the best. Never fear, because Delta Electrical won Jackson Chamber's Business of the Year Award! With more than 60 people on our staff, we're incredibly proud to have been chosen for such an honor. Having built the foundation of our business on giving our customers the absolute best service and the greatest possible experience, we're proud of each member on our staff for their hard work and commitment to excellence.
Delta Electrical owner Brice Meeks had this to say: "I just happen to be the one that got to go up on the stage, but we are all a part of Delta Electrical getting this award." We're all looking forward to being able to spend more time in our wonderful Jackson community and we're thrilled to serve such wonderful customers.
If you're looking for an electrical technician with a record of success, Delta Electrical will be glad to answer your call. Whether you're looking for commercial and industrial work, residential electrical help, or even service and maintenance, we'll be sure to provide you with the highest level of professionalism, integrity, and fairness.
Be sure to contact us for a free quote knowing that the Jackson Chamber's Business of the Year can help. We're licensed in a number of different states, so even if you're not located in the great state of Tennessee, we'd be happy to help out with your project.