There are two different types of major electrical work for major buildings, commercial and industrial. Fortunately for those who own either one, they have our experiential knowledge and our capability to do either one. Commercial electrical work typically involves a higher understanding of stores, offices, medical facilities, schools, etc. In comparison, industrial electrical work is primarily focused on chemical plants, industrial manufacturing buildings, power plants, mines, and any type of factory.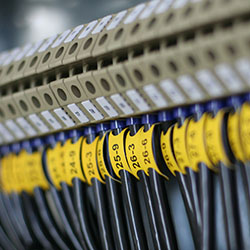 The difference in actual workloads is that our industrial electrical technicians in Jackson, TN perform their skills mainly on high voltage distribution systems. They also work on grids, networks, and high voltage machinery. Contrary to their specific skills, our commercial electrical technicians in Jackson, TN work with general use power outlets, internal lighting, and external lighting. Commercial lighting usually involves wiring that is labeled as MC cable or EMT cable.
Here at Delta Electrical Inc., we will work with commercial and industrial companies, from specs to designs to installations. One of our primary focuses as a company is to make sure that we work and communicate directly with our clients every step of the way. If your building just needs some repairs, we will be there in no time and ready to rock. If your building needs upgraded electrical work, then we'll order the supplies that best suits its structural designs. In the end, despite all the differences between these two types of electrical work, our electrical technicians in Jackson, TN can handle it with confidence!