Here at Delta Electrical, our goal is to provide our customers with a level of service that's simply unmatched in our industry. No matter what, if you have to call in a professional to do work for you–whether it's a mechanic, an electrician, or a furnace repair man–there's always a bit of fear that you're going to get taken for a ride. It's a fear that's often justified because unfortunately there are people out there who are more than willing to do something unethical to make a quick buck.
Perhaps it's because they're not seeing much business otherwise or perhaps it's just because the opportunity to make easy money prevented itself.
Either way, we want you to know that that isn't how the certified electricians at Delta Electrical do things. In today's blog, we'll take a quick look at three of the things you can always expect from us, ensuring that your experience with our company is above average. Keep reading to learn more!
What Makes Delta Electrical Different?
We're Honest
The previously mentioned lack of honesty is one of the things that bothers us the most to hear about. At Delta Electrical, we pride ourselves first and foremost on being honest. That means we won't cut corners and do shoddy work just to get it done. It also means that we're not going to overcharge you for a job simply because you don't know how much it should cost. Our honesty is one of our strongest assets and it's not a quality we plan to change any time soon.

We're Professional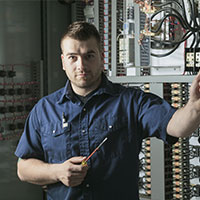 To put this one simply, when we say we're going to be somewhere, we'll be there. When we give you a quote on some work that needs done, you can count on end price to be incredibly similar because we don't believe in hidden fees or service charges. We'll be upfront with you about what needs done and we'll get it done the right way the first time around. It's as simple as that.
We Can Do It All
At Delta Electrical, we're your one stop shop for all things electricity related. Need a residential electrician to work on your home? How about a commercial electrician to wire in outlets in your new company's building? Searching for an electrical contractor who can re-do the wiring in your newly purchased vintage home? No matter what task you have for us, you can count on our licensed and certified electricians to handle any job.
Get a Free Quote Today
When you choose to work with Delta Electrical, you can put your trust in us to get the job done well. We know that you're a busy person and that's why you can count on our integrity throughout the process to ensure that you have a great experience with a member of our team.
Have a question? Need to get a quote? We'd be glad to help. Feel free to contact us online or give us a call. We look forward to hearing from you!